Earlier this year, Aline Sousa , who has been collecting recyclable materials since she was 14, saw her life change. Chosen to deliver the presidential sash to Luís Inácio Lula da Silva during the ceremony in which he assumed the presidency for the current term, Aline represented a large part of a working class that, unfortunately, has little or no visibility on a daily basis: the collectors of recyclable materials .
In addition to her career as a waste picker, Aline is the mother of 7 children, a law student, president of one of the largest Cooperative Centers in Brazil – CENTCOOP (Central de Cooperativas de Trabalho de Valores Recycláveis ​​do Distrito Federal) –, representative of the National Movement of Collectors and responsible for the National Secretariat for Women and Youth of Unicatadores . The already tight schedule still makes room for participation in lectures and events in which, in addition to telling a little of her story, Aline Sousa talks about environmental awareness , recycling and the importance of valuing the professionals who do this work.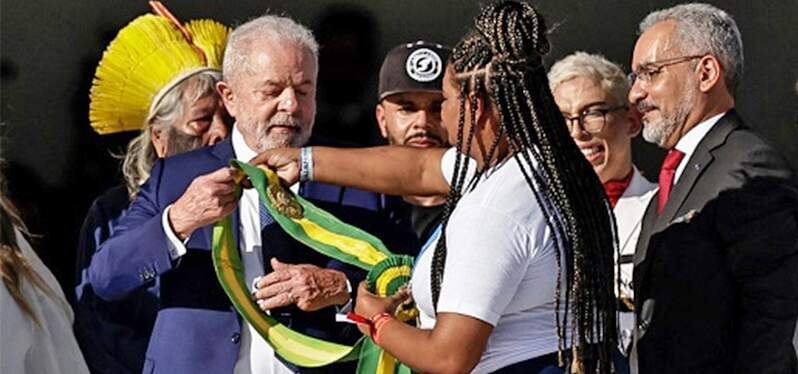 Last month, as part of the Synergia 2023 Environment Month actions , Aline was invited to participate in the conversation " The Plastic Generation and the Reality of Women Waste Pickers" , held internally for Synergia Socioambiental employees. Mediated by Fernanda Carvalho , Synergia's project coordinator, the conversation circle was also attended by Evandro Nicolau – professor, PHD, researcher, artist and current coordinator of the Education and Art area of ​​the USP Museum of Contemporary Art.
The conversation wheel yielded an incredible interaction between participants and also generated the opportunity for an exclusive interview with Aline Sousa, which you can see below.
Synergia Socioambiental interviews Aline Sousa
Aline, how can private companies help the work of waste pickers and cooperatives?
I believe that the connection and integration of companies with the work of recycling through cooperatives is a big deal, especially in terms of meeting goals, which are probably in the waste management plans of these institutions. Ensuring that the company correctly disposes of the waste generated, integrating the collectors into the chain and generating work and income – and also saving money with this (which I believe is the point of view of the entire company) – is a very nice partnership.
Even in Brasília, we have Law 5610, of 2016 , which is the Law of Large Waste Generators, which dictates who the large generators are and what to do with their waste, and brings this responsibility to companies. Some companies chose to carry out the work based on this law with the Cooperatives, instead of simply bringing a waste carrier and taking it to the landfill. They are concerned with trying to go to the last resort, correct that residue and try to recover a large part of it through the cooperative. This is a sustainable alternative for both the company and the cooperatives.
During the conversation, you talked about the issue of plastic not just being there at the final destination, which people need to be aware of from the beginning, when they are in the market, purchasing the product. Can you talk a little more about that?
Today we are experiencing the war of plastics, especially when we bring a cut for single-use plastic. People need to be guided about plastics that will promote the circular economy, which will have a chained treatment for its return as a new product, and about plastics that are an environmental, economic and social problem. And then we are talking about plastics that have pigments, enveloped plastics, multilayer plastics and flexible plastics – such as chocolate, coffee, animal feed – which are plastics that have a recovery problem. We need to work on mass communication with people when choosing to remove from these supermarket shelves packaging that will be an environmental, social and economic problem.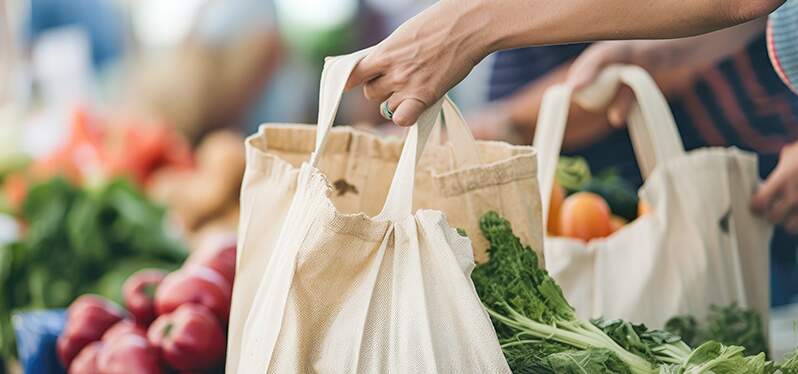 One of these days I went to the supermarket, and on the milk shelf there were two consumer attractions: there was the milk in the bottle and the one in the Tetra Pak box. The one in the bottle was much cheaper than the one in the box. For economic reasons, I could take the bottle and leave the box. However, as I am a collector – and we understand the chaos that bottle packaging can cause in the environment, and that the market will not absorb them – I paid a little more and took another one, because I knew it would be recycled. It is this kind of understanding that needs to reach people, so that they know how to make the right choices.
How can the common consumer – who doesn't always have the contact and knowledge that you have, since it's at work and part of your day-to-day life – be more aware of these choices?
We have a shortcoming, which is the little or no investment in guiding society about waste, about the importance of selective collection. Today, what we can do is bring this knowledge to people, this knowledge entering companies, homes, schools – to bring understanding to children, in a simplified way, so that they already have this incisive theme of sustainability in their school vein – entering universities. And this is an investment for Environmental Education, which is practically zero investment in the country. We have to evolve and prioritize this phase, which is to guide people en masse, using the main instruments that are on the rise in countries, which are social networks and the internet. Today, we manage to reach thousands of people using social networks, which is what I believe is the way to bring these people.
But there is also another initiative of ours that we believe can enter people's daily lives today, to take a little bit of their time and provide guidance on waste, which is our Ecopoints Project . Ecopoints score people who participate in the correct segregated disposal of waste, a technology that I came across in Italy in the past. They are coupled garbage cans that talk to a technological system that will score that person for the correct destination, whether in partnership with an energy agency, water agency or any other private entity that has something interesting to participate in the project as a partner and score these people, such as dental services, language services or, in our cooperative branch, with credits.
There is a concept that you used, and that drew a lot of attention, which is the "seventh continent". Can you explain a little more about that?
There is a "seventh continent", it is made of plastic and is in the ocean. This is due to the incorrect disposal that is made by countries and reaches the oceans, for the ocean to solve the problem.
We have a partnership with a very serious institution, which is Oceana . She is even working with several Law Projects in Brazil to reach the levels of actions in China, for example, which has the ban. Oceana is working on PL 2425/2022 , which is the issue of the "Plastic Pact", and it also includes the "seventh continent" of plastic within its history. We try to work with these actions, through this integrated way.
I read in an article that we would need something around 27 ships, and I don't remember the exact number of years, to be able to clean this "seventh continent", which ended up there for reasons of human behavior. It is not a continent of nature. These are actions that we need to correct.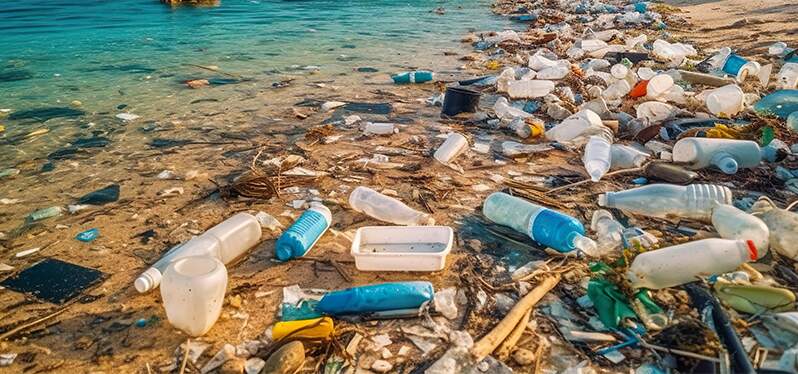 What this "seventh continent" is telling us is that, in the same way that human behavior, for decades, generated a plastic continent, this can happen with habitable continents. We ourselves are polluting ourselves, and ceasing to have spaces for the guarantee of life to foster spaces that will take life, be a chaos of life itself.
There's no way not to talk about his moment of delivery of the presidential sash. How has this visibility you gained helped in the work of the cooperatives and collaborated with the cause in general? Are people and companies more interested in knowing about the work of waste pickers?
I already saw a gain there, from the first day, due to the fact that people started to know that we exist. The anxiety of the visibility of all the work done behind the scenes by the collectors, the importance of the economic activity carried out, the positive impacts generated with all this work in the chain, until the end of the industry, and to arrive with the result in the issue of public health, in the issue of guaranteeing people's quality of life, this, for me, was already a great achievement.
Regardless of public policy actions and partnerships with companies, I already see that this was a big leap, because until then, in addition to being invisible, this category, which is a multitude of people, was still very marginalized.
There is still a prejudice not only against us, as people, but above all because of the material, the work carried out and the conditions in which we manage to exercise it. There is even a saying that we learn when we are children that says "Oh, be careful with the bag man!". And the "bag man" that the children learn is none other than me, than the collectors. Only after we grow up, and when we work in this sector, will we know that we are that "man in the bag" that makes us afraid, that parents instruct us to be afraid of. The culture of prejudice comes from the beginning.
Going up the ramp was important for that reason, because people said "Hey, but are there collectors? What is that? What do you do? They even came to doubt our own legitimacy for acting in the sector, my own. The biggest gain was visibility. The consequences of all this visibility, I see that, gradually, we will reach very satisfactory results for the sector, such as, for example, living from work, and not surviving, bringing dignity, warming up this narrative about selective collection with the populations, that it is not just a service provided, that it ends when the garbage truck collects the waste. And, yes, that the waste cycle begins there, when it leaves the door. Let's talk more about the theme of sustainability. After all, I am part of one of the main councils in this country, which is theSustainable Economic Social Development Council . We need, today, in partnership with various sectors, to bring this connection, and in a way that is more about valuing work than merely a social issue.
I know that many see us more as a social agenda than an economic agenda. But when we talk about cooperatives and organizations of collectors, we are not just talking about a space for social transformation, we are talking about a business model, an institution that generates thousands of jobs and income for people who, for some reason, are not in formal work and have found recycling a way to survive.
Regarding the work of waste pickers, what do you expect the Government to focus on now? Are there any specific areas where you feel a need for change to improve your work and sustainability as a whole?
The very issue of our inclusion within the Council for Sustainable Economic and Social Development is already a very important, fundamental action. It is necessary to change the perspective of the public manager first, so that he understands all this impact to reach the population. So, bringing the "S" [for sustainability] to the economic agenda has already been an immeasurable advance, because it will provoke those 200 members who make up the boards of companies, civil society and the government itself, to change not only behavior, but a change in demands, a change in the legal aspect. The government is coming at a pace where it already believes in this new economic model, which has been promoted for years, but which – just like us [scavengers] – was also invisible, which is the circular economy.
We need to work towards an economy rhythm that is less harmful to society, people and institutions and to us collectors, because, at the pace we were going – and we are still crawling to banish this type of economy, which is linear – we were only doing palliative work. And this sustainable issue does not have to have a look and a palliative treatment. We really need to act at the root of this, and the root is when you bring regulations and resolutions in which you oversee the issue of deforestation.
People think that deforestation is a distant issue from the work of recycling, but it is not, because when you talk about the environmental aspect and recycling, you talk about the preservation of nature, about the preservation of trees. So, when you talk about the opposite of this, which is the use of virgin matter, you are talking about cutting down trees. And cutting down trees that are even beneficial to human health, to plant trees like eucalyptus, just to make paper and cellulose, damaging the soil. They are chains that talk.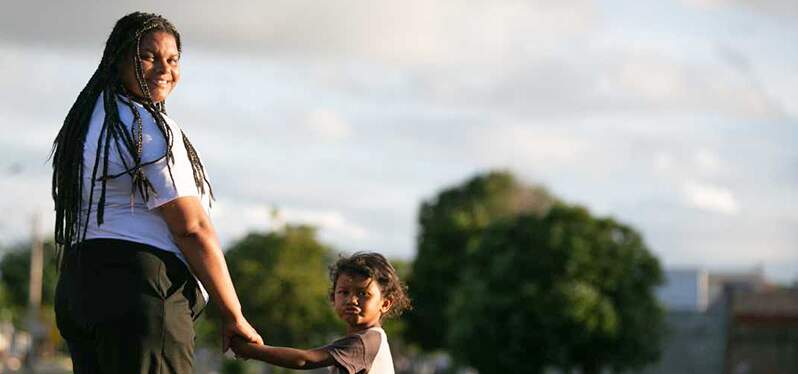 I see that our resumption today, in an institutional way, within the Ministry of the Environment – ​​which now has a solid waste department, which it never had – is to bring this agenda warmer and bring all the sectors involved to the discussion. This is already a breakthrough. The broad resumption of CONAMA [National Council for the Environment] is also a step forward.
Today, what we need to help the collectors and see this change is, in fact, the appreciation of paid service provision. People can't think that waste pickers will survive just selling recyclable material, because they won't. Recyclable material has no added value, it is not competitive with virgin material, it has several obstacles to being able to follow its flow in the production chain – tax issues, logistics issues, quality issues, the waste still arrives very contaminated from the population to us – there are all these obstacles. You can't think that selling the material will guarantee the survival of that group, it won't. We survive by providing services. Today, what are you doing with me here, the two of us [Aline refers to the Synergia interviewer], we are working. You, there in your company, and I here in mine. We get paid for it. So, nothing fairer than that the collectors, who are there recycling, creating and recovering, get paid for it too.
So far, we have been talking a lot about the issue of the Government and the laws, but I would like you to leave your final message for the consumer who is going to dispose of it. How to develop this awareness in relation to his/her consumption?
Very cool. I always choose this agenda to end my participations. I believe that if it is not for people to understand the importance of recycling what they chose to generate, if this separation is not due to the collectors, the economic issue – because when we land waste, we land money -, that they can stop 1 minute of their time and think that, behind all waste, there is a mother of the family, a father of the family, and sometimes even children (due to the issue of child labor in dumps) who need that minute of separation, delivery and social and environmental responsibility of correct disposal, to generate work and income for us.
If not for us, even with all that I have already said, in a very romantic way, then for your son, for your grandson, for some future member of your family that may come into being, because we are talking about guaranteeing that person's quality of life. It's where you'll choose what kind of air that person will breathe, what kind of oxygen will reach them, what kind of environment that person will be able to live in and under what conditions. If not for us, then for your own family members.
We are not in favor of any alternative of punishing people for not separating their garbage, because, before being collectors, we are also residents. So we do believe in awareness. We do believe that people have the ability to adapt, to change their actions and actually choose to consume sustainable products. It is a change, this is an economic transition. Without a doubt, when the population starts to consume and choose correctly, and to understand all these processes, it will be an economic transition in the country. I believe in it.