" Bioeconomy and the market for non-timber forest products : challenges and possibilities ", the fifth volume of the series " Brazilian Amazon: Integrated territorial perspectives and vision of the future" is now available for reading !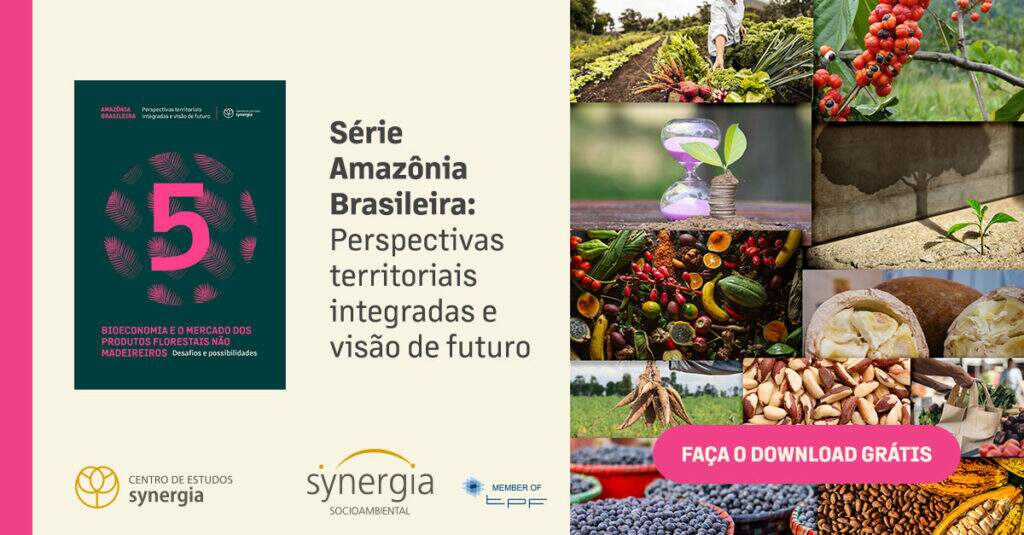 Recently launched by the Centro de Estudos Synergia , the publication continues the discussions started in the four previous volumes , which have already addressed the challenges and vision of the future , the consolidated occupation and the arc of deforestation in the territory, analyzed the conserved area and the metropolises in the forest .  
The fifth edition of the Brazilian Amazon Series now brings a discussion on the bioeconomy and sustainable production chains in the Amazon forest , considering the different aspects and concepts of bioeconomy , sociobiodiversity and extractivism.  
To complement the theme, volume 5 also talks about Synergia's initiatives in the field of the Amazonian bioeconomy , presenting some of the chains and products of the 
local sociobiodiversity. The company has been operating in the Brazilian Amazon for more than 10 years and – based on projects that aim to stimulate social development , territorial relations and collaborate with the management of knowledge about the territory – it has the opportunity to learn and exchange knowledge , understanding the points strengths and weaknesses to collaborate with the transformation of this territory, always respecting the characteristics of the biome and those of its communities . 
In addition, in volume 5 you will find the main information on some socio-biodiversity chains and products , such as nuts, cocoa, vegetable oils, latex, babassu, cumaru, tucumã and murumuru.   
And finally, in the Voices of the Amazon section, you will find 3 texts produced by special guests , who bring their perspectives:  
Agroextractivist Association Sementes da Floresta (AASFLOR), from Uruará (PA), with its history and experiences in the field of bioeconomy;  
Researchers Ana Euler and Amanda Quaresma, who write about açaí and the characteristics of this production chain in Amapá and northern Pará;  
Eric Brosler, advisor to the Guaraná Maués Alliance, who reports on how the organization is articulated around the production of guarana in the municipality of Maués, in Amazonas. 
Do you want to know more about the Amazonian bioeconomy, the market for non-timber forest products and, of course, about the territory as a whole? Do not waste time! Download now Volume 5 of the Brazilian Amazon Series: Integrated Territorial Perspectives and a Vision for the Future!