The reading of the current Amazonian socio-environmental picture, through the historical understanding of the development of the territorial dynamics that have formed the different Amazons, is one of the central themes of the second volume of the Brazilian Amazon Series: integrated territorial perspectives and vision of the future.
Volume 2, Territories: consolidated occupation and the arc of deforestation, recently released by the Synergia Study Center, is now available for download .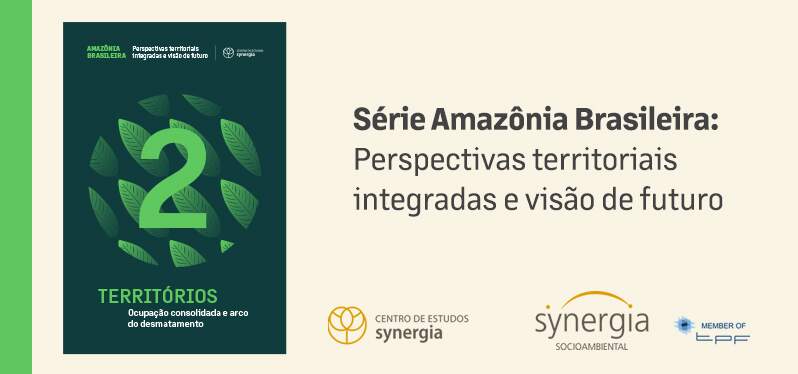 In it, readers are led to reflect on Amazon realities, observing continuities and discontinuities between four different territorial typologies in the region:
Areas with consolidated occupation;
Areas under pressure/arc of deforestation;
Preserved areas;
Metropolis of the forest.
The changing spatial distribution of these four territories over time calls for several reflections that are addressed in depth in Volume 2.
The discussion helps to build a scenario in which it is possible to glimpse the socioeconomic issues of the various Amazons, debating the status and meanings of the economic development of the territories today.
Territories: consolidated occupation and the arc of deforestation also addresses the central vectors that have been driving the processes of change in Amazon territorial dynamics –  such as the increase in cattle ranching, the opening of roads, the creation of settlements, land grabbing, and the advance of illegal mining. All these factors contributed and resulted in the tragic scenario of 20% deforestation of the biome.
"Observing the current socio-environmental framework in the Amazon from a historical perspective of the development processes of each territory is essential so that proposals for sustainability projects and policies are guided by the territory, considering what has been learned from the past, proposing innovations beyond trends and historically ingrained models. ", explains Mario Vasconcellos, leader of the Synergia Study Center, responsible for the Series.
Don't miss out! Download now Volume 2 of the Brazilian Amazon Series | Territories: consolidated occupation and the arc of deforestation!
---
Check out the complete news about the release of the first volume of the series:
Brazilian Amazon Series: everything you need to know to understand the importance of the territory for Brazil and the world
Download Volume 1 | Panorama 2021: challenges and future vision for the region
Download Volume 2 | Territories: Consolidated occupation and arc of deforestation