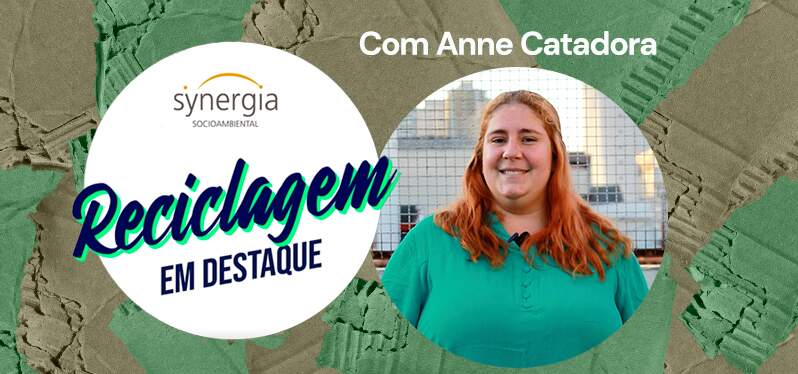 In yet another partnership, Synergia Socioambiental and Anne Catadora , collector of recyclable materials and influencer, launch the series Reciclagem em Destaque , and address the process of separation, collection and disposal of recycling , focusing on the importance of the work of collectors for the sustainability .
In the 6 videos in the series – released twice a week on our social networks and updated here on this page – you will see topics such as:
The importance of valuing the work of collectors;
How to consume more consciously;
How to dispose of waste from your home;
How to dispose of electronics, glass and hospital waste;
How to dispose of waste outside the home;
Inside a recycling cooperative.
Anne Catadora, who previously participated in the " Climate Justice for Women " campaign – our Synergia 2023 Women's Month action – is now back to help us disseminate more information about the recycling process, from collection to the cooperative , in addition to promoting a reflection on how people, companies and governments can engage in the topic.
The Highlighted Recycling series is also one of the actions that result from the partnership between Synergia's Communication and Mkt and Sustainability and Social Responsibility teams, as the concern with recycling within the company's offices, and the desire to raise this awareness as well outside of it, have been increasingly present among the topics covered by the teams.
Check out the videos from the Highlighted Recycling series!
---
10/30 – The importance of the work of people collecting recyclables
In the first video of the series , you will learn more about the importance of the work that collectors do and how it needs to be more valued than it is currently. Check out!
---
And don't miss it! On Wednesday, 11/1, we will release the second video in the series.
You will discover how to consume more consciously, considering the recycling process before even purchasing a product!