The World Economic Forum , in Davos, Switzerland, with the theme "Cooperation in a fragmented world" came to an end. The event took place from the 16th to the 20th of January and brought together more than 2,500 political leaders , economic experts and businesspeople from around the world to promote future-oriented solutions and to face urgent challenges in public-private cooperation.
Among the main topics discussed at the Forum, the supply chain, climate crises , the importance of collaboration in actions , innovation, war in Ukraine and technology, among others, stood out .
During the event, a new coalition of Ministers of Commerce on Climate was launched , which brought together more than 50 countries to boost international cooperation on climate, trade and sustainable development .
Brazilian participation in the World Economic Forum
The Brazilian government was represented by the Minister of Finance, Fernando Haddad , and the Minister of the Environment and Climate Change, Marina Silva . The participation of the Minister and the Minister draws attention to the fact that the Brazilian environmental agenda is related to the economic one .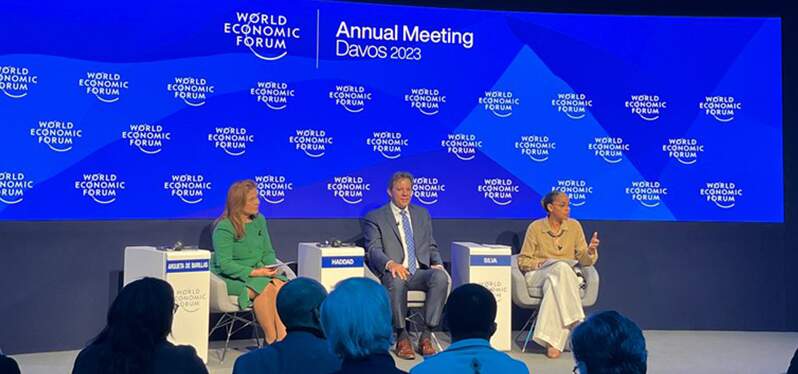 Marina Silva also reinforced that she will seek financial resources for environmental preservation in Brazil, in line with the reopening of the Amazon Fund , financed by Germany and Norway. There are expectations of UK participation in the partnership.
Haddad, on the other hand , anticipated the importance of the tax reform , with the proposal to exempt the poorest strata from the income tax , demonstrating the expectation of rebalancing the Brazilian tax system – in addition to increasing the credit of Brazilian men and women and generating an appreciation of the minimum wage, allowing greater purchasing power .
The Governor of the State of São Paulo, Tarcísio Freitas , was also present at the Forum to present the Green Agenda and seek investors for the project. The Agenda is based on energy transition, green hydrogen and second-generation ethanol . In this way, the State would aim to strengthen the energy matrix of São Paulo, with approximately 60% of the share coming from renewable sources .
See some of the main news about the World Economic Forum and the most important agendas for the socio-environmental area that were discussed at the meeting:
5 things to know about Davos 2023
Brazil defends sustainable development at the World Economic Forum
We will reinforce commitment to fiscal and environmental sustainability, says Haddad in Davos
Marina Silva takes a message in defense of democracy and sustainability to Davos
For investments, São Paulo presents a sustainable development agenda in Davos