In March of this year, at an event promoted by TyQuant , specialists in water issues discussed how to face the vicious cycle of water , considering the main trends brought about by the UN Conference on Water and the launch of the Water Action Agenda .
Ricardo Young – entrepreneur, environmentalist, managing partner of CT&I and advisor to Synergia Socioambiental, was in charge of presenting the guiding themes related to the issue of water in Brazil and provoking the exchange of ideas among the specialists in water issues present.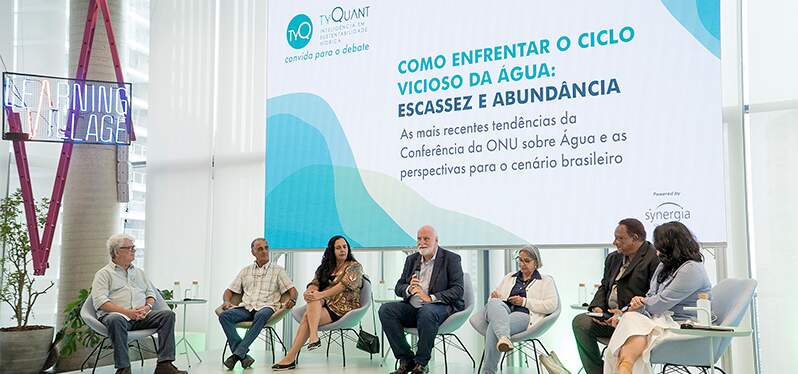 Participation in the event resulted in the production of the article " Scarcity and abundance: the vicious cycle of water instigates us to the challenge of being reborn as a civilization before we become extinct as a species ", published in several vehicles.
In the text, in addition to telling a little about his experience at the UN Conference on Water, Ricardo brings his opinion about the different views on water , and how they impact the way we relate to this natural resource . For him, water is the topic of the moment, and it is finally gaining the necessary attention in the debates – an important factor to guarantee global engagement solutions to avoid future water crises.
In the understanding of the socio-environmentalist, the water crisis – one of the consequences of global warming – will not be solved only by mitigating the damage already caused to the environment. In order to restore the ecosystem balance related to water issues – avoiding situations of extreme droughts and floods, for example – it is necessary to invest in a regenerative economy , "based on Nature-Based Solutions (SBNs)".
We have gathered below the main vehicles that published Ricardo Young's opinion. Check out the full article and understand his view on the water cycle, based on the debate among experts on water issues: