On the 29th and 30th of November , in Manaus, the 2nd edition of the Impact Investment and Sustainable Business Festival of the Amazon (FIINSA) took place , promoted by Idesam, AMAZ Accelerator of Impact and Impact HUB Manaus.
The event, which had the participation of "entrepreneurs, investors, civil society organizations and other actors that make up the impact ecosystem in the region", addressed topics such as the challenges and opportunities of entrepreneurship , the structuring of the ecosystem , the impacts on communities , financing and access to capital and research, development and innovation . The bioeconomy and the future of the Amazon were also highlighted themes.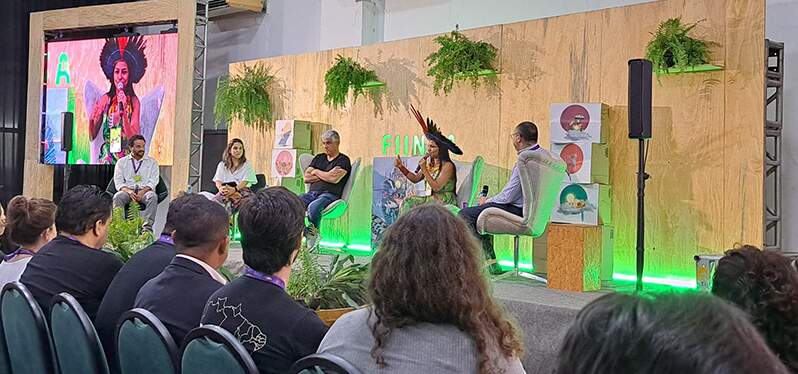 The 2nd edition of FIINSA featured 29 panels and had the participation of great leaders from the Amazon , such as the chief of the Kaarimã village, Juma Xipaia , and the greatest leader of the Paiter Suruí people, Almir Suruí , among others. More than half (58%) of the people who attended the event were from Manaus.
The festival also included in its calendar thematic workshops, project launches, pitch sessions, business fair, market with sustainable products from the Amazon , business and investment rounds and partner stands.
FIINSA and the new disruptive development model
FIINSA reinforced the possibility and the need for a new disruptive model of development , which considers the structures, dynamics, local communities and multi-diversity , with different solutions for the different challenges and Amazonian realities.
Gabriela Goulart , Synergia's Socio-environmental Management specialist who was present at the festival, highlighted the importance of investment , encouragement and appreciation of small local entrepreneurs, in addition to the fundamental participation of people from the territory in decisions. "This multidiversity is only respected by those who are from here, it is only possible to think about the Amazon from the Amazon. Who has the possibility of exporting a new development model is the Amazon. There are opportunities, but more investment, incentives and public policies are needed. The solutions must talk to this multidiversity. The strategy needs to be started now and thought out by people from the Amazon", commented Gabriela.
And to assist in the development of local businesses, Gabriela Rebouças , operations leader at Impact Hub Manaus , reinforces that it is necessary to learn from the native peoples about how and why they built their businesses in the region . Gabriela points out the importance of large companies adapting to local processes and contexts , incorporating knowledge to exchange experiences: "The great difficulty that some organizations have, which can even mean the failure of some projects, is actually arriving with this model ready and saying 'fit here', when the opposite should happen. We are the ones who are inserting ourselves here. We need to learn and adapt according to the reality of those peoples", he comments.