Sustainable Connections – Call for Projects Platform will have calls for proposals scheduled for 2022 and 2023 and aims to finance community and structuring projects for the development of the municipality.
On May 3rd , in Barcarena , the Hydro Sustainability Fund (FSH), in partnership with the Partners for the Amazon Platform (PPA) and the United States Agency for Development (USAID), through its support to the Sustainable Barcarena Initiative (IBS), launch a platform to encourage entrepreneurship in the municipality, the Sustainable Connections – platform for calling for FSH projects for the development of Barcarena. Calls for projects aim to finance community-based and structuring projects to be carried out in Barcarena. The objective is to achieve, in a collaborative way, development based on sustainable solutionsfor the region. The event will feature the participation of the partners involved, communities and civil society organizations, starting at 2 pm, at the Hotel Samaúma, in Barcarena.
Interested parties can apply for community call 1 from May 3rd to June 3rd , on the IBS website https://barcarenasustentavel.org/ . The partner institutions' investment will be R$ 700,000, to support community-based organizations to develop and carry out concrete actions with a social impact in the municipality in the areas of job and income generation ; sociobiodiversity ; sanitation and solid waste management .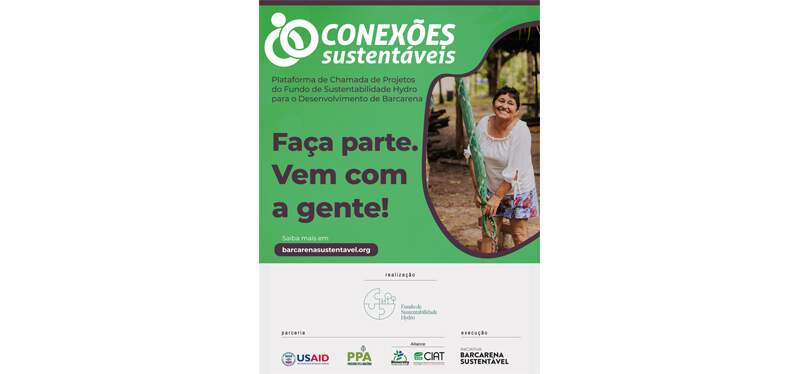 Entities with a structured legal entity, such as OSC, Foundations, MEIS and Limited Liability Companies, with projects that have restricted operations in Barcarena , may apply . Interested institutions will be able to have support for the preparation of projects, in two workshops to be offered during the registration process, scheduled to take place on May 10th and 11th .
The calls propose to prioritize local community organizations , through the opening of deadlines for the presentation of projects in two moments: in 2022, a call for community projects and a call for structuring projects ; and, in 2023, with another call for community projects . The 2022 community projects public notice will open on the day of the event, May 3rd. The public notice for structuring projects will have an open call in June this year.
Public Notice 01 – In the first call for projects promoted by FSH, in 2019, eight initiatives were selected and started their activities in 2021. Projects distributed in three lines of investment participated in the selection: promotion of work, employment and income and environment; institutional strengthening of associations and social organizations; and sporting or cultural events. The first notice guaranteed a total investment of R$ 730,000, benefiting approximately 300 families.
* Text released by the advisory of the Hydro Sustainability Fund (FSH). Synergia is responsible for managing the Executive Secretariat of the IBS (Sustainable Barcarena Initiative ) , a platform that aims to strengthen the capacity of local communities to drive social change and local development .