The news about the practice of illegal mining in the Amazon , unfortunately, is not recent. For years , organizations operating in the territory have denounced and exposed the increase in illegal mining , especially in indigenous lands and forest areas that should be protected.
Illegal mining is one of the main factors responsible for the increase in deforestation , the contamination of rivers and springs (mainly due to the use of mercury) and also puts the survival of indigenous and riverside communities in the region at risk.
The Brazilian Amazon , for example, already has 20% of its territory deforested , not only as a direct result of illegal mining, but also due to other factors that are linked to it, such as consolidated occupation and changes in territorial dynamics due to the advance of illegal mining.
In 2021, the issue of illegal mining in the Amazon gained great repercussions, when hundreds of miners were seen in broad daylight carrying out the exploration process on the Madeira River .
More recently, the episode repeated itself. Now, with the invasion of the Tapajós River , which was so intense that it caused visible contamination of the waters on the beaches of Alter do Chão , in Pará. It is worth mentioning that the scenario, known as the " Amazonian Caribbean ", was unrecognizable after the amount of mud turned over from the river that reached there.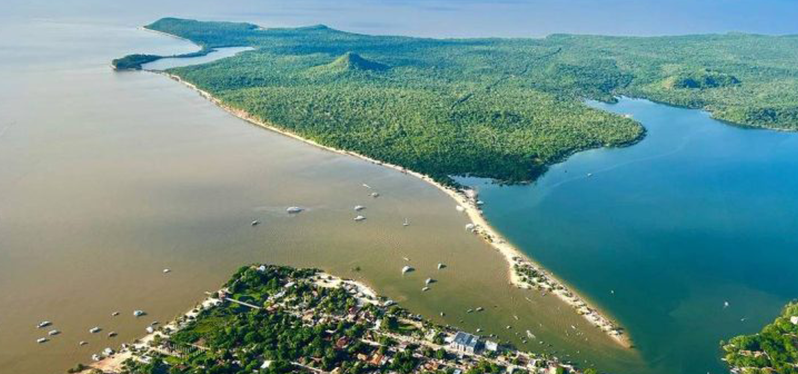 The operation drew attention both for the number of people engaged in mining activities and for the large infrastructure set up for this purpose. In addition to the amount of heavy equipment , the garimpeiros had a structure of services that included a church and a market.
This same operation has been denounced for some months by various environmental organizations . But only at the end of February 2022, the Federal Police carried out an operation to expel the invaders. The difficulty of accessing the area and the logistics for seizing the machinery are some of the reasons given for the delay in the action.
According to a survey by MapBiomas , in ten years (from 2010 to 2020), " the area occupied by mining within indigenous lands has grown by 495%; in the case of conservation units, the growth was 301% ".
Also according to MapBiomas, in 2020, the Amazon concentrated 72.5% of the total area mined in Brazil, which corresponds to 149,393 hectares , occupying the place of biome that most grouped mining activities in the country, mainly illegal: 101,100 hectares , (67.6%) .
We selected the main vehicles that publicized the latest Federal Police operation to prevent illegal mining in the Amazon. Check out!
PF operation against illegal mining expels invaders from indigenous lands and tries to protect Alter do Chão (PA)
PF carries out operation against illegal mining that clouded water in the Caribbean and Amazon
PF and Ibama operation against illegal mining destroys machines valued at BRL 10 million
Federal Police conducts operation to combat illegal mining in Pará