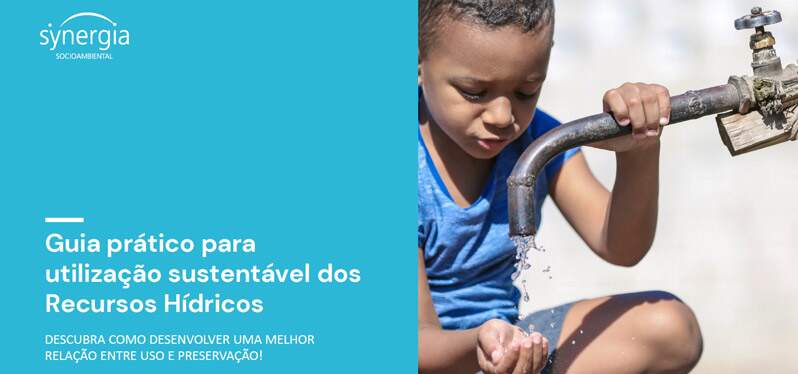 Are you concerned about how water resources are used?
It may seem like a strange question, but we don't always stop to think about the way we use one of the most important natural resources on the planet: water.
The proper use of water resources in a more sustainable and environmentally friendly way is a topic that should be a constant theme in the media, information channels, and, of course, educational systems.
After all, although the Earth's surface is composed of approximately 71% water, only 2.5% is fresh water, suitable for human consumption.
With this in mind, Synergia has developed a Practical Guide, with several pieces of information about how the conscious use of water can be accomplished and what benefits the sustainable use of these resources brings to the community, the environment and the planet.
Get to know the Practical Guide for the Sustainable Use of Water Resources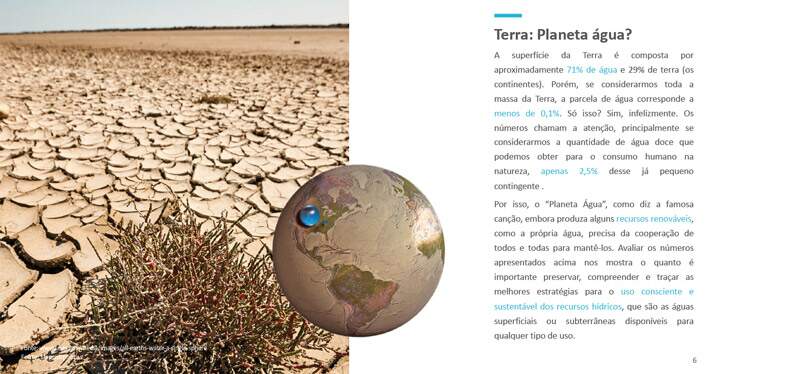 We have gathered the best practices to make the relationship between land use and the preservation of Water Resources a positive reality in the daily life of companies and communities.
The good use of water resources need not be treated as a difficult topic to understand. On the contrary, there are countless ways to approach the subject in a simple and clear way, one that is easy to understand for everyone and, most importantly, one that facilitates the spread of this knowledge.
After all, we believe that the best way to ensure learning for future generations is through shared and accessible knowledge.
For this reason, we have developed the e-book Practical Guide to the Sustainable Use of Water Resources.
In it, we will discuss the fundamental concepts related to the water cycle and the interactions of a community's activities with the territory and its rivers, streams and springs.
You will obtain knowledge about:
What are the most important points of water availability on the planet;
How working with environmental education can help preserve resources;
The importance of springs and watersheds;
The main impact factors for the degradation of water resources;
Good practices for the conservation of resources.
And much more!
Learn more about the sustainable use of Water Resources with our material, developed by experts in the field. Just click on the link and download your ebook! 
[Download the Practical Guide for Sustainable Use of Water Resources]