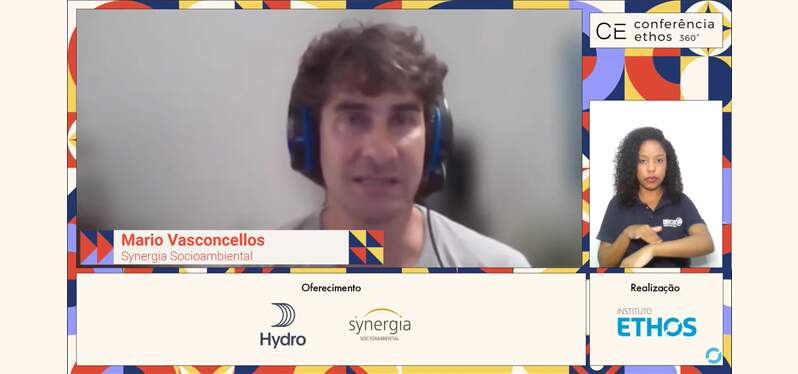 On November 17, Synergia participated in the panel " The role of the private sector in the Sustainable Development of the Amazon ", an event held during the Ethos 2022 Conference .
The panel included the participation of Mario Vasconcellos , leader of the Center for Synergia Studies, Eduardo Figueiredo , director of Sustainability and Social Impact at Hydro, and Carlos Alberto de Mattos Scaramuzza , representative of the International Institute for Sustainability. In addition, it was moderated by Ana Lucia Araújo , Communications and Events leader at Instituto Ethos.
During the dialogue, people representing Hydro , Synergia Socioambiental and the International Institute for Sustainability discussed issues directly related to the role of the private sector in the sustainable development of the Amazon based on guidelines such as the existence of a real possibility of promoting a model of sustainable development that respects both the people of the region and the biome itself, and how the private sector needs to act for this .
In addition, the panel raised the debate on how the private sector can support a model based on economic, social and environmental aspects , allied to human well-being in the region.
Synergia, which has demonstrated a strong presence in the territory for more than 10 years – and promoted the sharing of knowledge about the region through the Série Amazônia Brasileira , produced by the Centro de Estudos Synergia – shared its vision on how the Amazon can be fundamental for national economic development, provided that their conservation is not neglected for this purpose.
During his participation, Mario Vasconcellos highlighted the importance of a panel dedicated to the discussion of sustainable development in the Amazon and the way in which different sectors of society need to unite to overcome the region's challenges, in addition to the need for companies to assume responsibility and adopt a posture proactive in relation to the necessary actions to achieve sustainable development in the Amazon.
Mario also highlighted the need for companies to connect with positive local agendas , act in the search for development opportunities and promote the opening role for horizontal relations in the territory.