The Sustainable Development Goals (SDGs) are defined by the UN as a way of guiding society based on the guidelines of the 2030 Agenda and in facing global challenges, such as inequality, hunger and pollution, through 17 objectives and 169 targets. 
Brazil has adhered to the SDGs since they were created in 2015. But, according to the Luz Report , from 2022, the country stagnated or regressed in 80% of the goals, in another 14.28% it had insufficient progress , and advanced satisfactorily in only 0.59% of the targets. 
However, this previous result is not exclusive to Brazil. Other countries are facing challenges in moving forward with the goals set in the SDGs. According to the Economic Commission for Latin America and the Caribbean ( ECLAC ), by the beginning of 2023, 75% of the goals assumed had the risk of not being achieved by the countries of Latin America and the Caribbean . 
As a way of helping countries to achieve the objectives, the Sustainable Development Goals Summit was held on September 18 of this year, which brought together world leaders to adopt the Political Declaration of the High-Level Forum for Sustainable Development .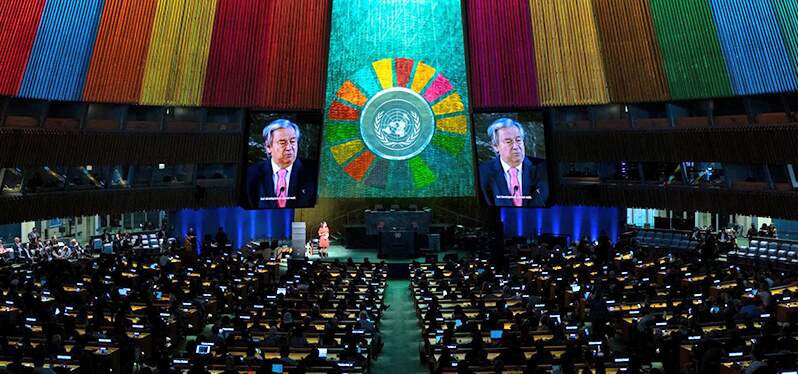 The declaration emphasizes the need for investments and partnerships to achieve the objectives. Initially, an investment of US$500 billion was already defined every year to stimulate the countries. 
Furthermore, the declaration highlights that countries are committed to combating forms of discrimination , such as racism and xenophobia, through partnerships, inclusion and respect for diversity. And they will also promote systemic changes to make the world more fair, inclusive and sustainable for current and future generations. 
Private initiative can boost achievement of the Sustainable Development Goals 
In addition to public authorities, several Brazilian and international companies have adhered to the SDGs, through the Global Compact , which aims to encourage companies to develop actions and efforts that contribute to the 2030 Agenda and the sustainable development of the planet. 
Thus, institutions assume a commitment to society based on the 2030 Agenda and the 10 universal principles defined by the UN, which address four urgent themes: human rights , combating corruption , environment and work . 
Synergia Socioambiental has been a signatory company to the Global Compact since October 2021, when it committed to maintaining high female participation in the company, in addition to increasing the number of management and senior management positions. 
To make the goal bolder, Synergia also included the racial issue in its commitment, with the goal of reaching 50% of occupation in management positions by self-declared black and brown people by 2030. In senior management positions, this objective is 25%. 
Furthermore, Synergia understands that the SDGs related to poverty eradication , quality education, decent work , reducing inequality, action against climate change and peace, justice and effective institutions are part of its action plan for sustainable development .