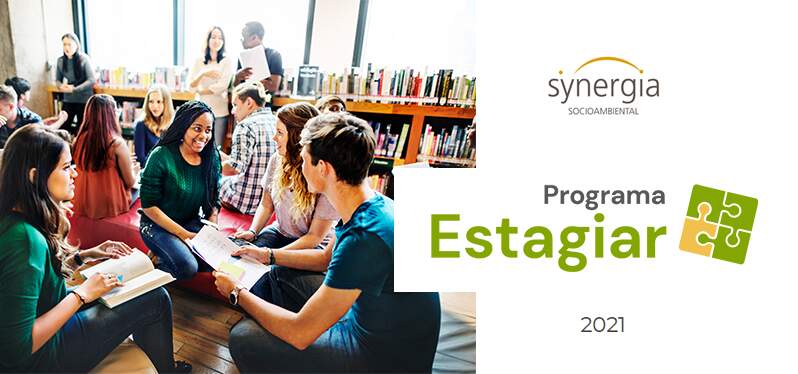 Synergia is launching the Synergia Intern Program, an opportunity that goes beyond learning to professional development. The program aims to train and develop young people who are interested in growing within the company and becoming part of Synergia's organizational culture, learning values such as empathy, respect, diversity, inclusion, and equity that are so important to the company.
But why are we investing in the development of young male and female interns?
It is simple! Synergia believes it can make a difference and promote transformation wherever it operates, and this also includes the company's daily routine and its employees. Investing in young talents, believing in their potential, and giving them the perspective of learning and being hired, is not only thinking about the future of the socio-environmental area, but also collaborating in the formation of engaged young people, with knowledge of important values for the construction of a fairer and more equal society for everyone.
And why can the Synergia Intern Program be a differential for the future of your career?
With over 16 years of experience in the development of customized solutions, focused on the planning, execution, and management of social, urban, and environmental projects, Synergia is one of the leading companies in the socio-environmental consulting market.
We serve the public and private sectors in the areas of crisis management and prevention, territorial relations, social development, and knowledge management. We have been in 18 Brazilian states and in Mozambique, Africa, promoting transformations wherever we went.
Respect for the communities where we operate, considering their cultural, geographic, and productive characteristics, is our differential. And the commitment to customers, ensuring agility and the best performance in the solutions offered, is the quality seal of our work – and has earned us ISO 9001 certification several times.
We believe in a future based on sustainability and environmental, social, and corporate governance practices that can collaborate to reduce inequalities. And we believe that knowledge about this needs to be shared.
For this reason, being part of the Synergia team will lead you, a young person starting your professional life, to meet people and stories from different parts of Brazil and to enjoy an inclusive and representative work environment, in which you will learn about your profession, get to know the challenges of your field, and acquire a lot of other important knowledge for your future.
There are opportunities in various areas and locations where Synergia operates.
See how to participate!
About the Synergia Intern Program
The Synergia Intern Program is the perfect opportunity to put your academic learning into practice, expand your network of contacts, and face the challenge of helping us think about sustainable strategies and solutions for the future. Besides working in a team, you will have a leadership that will closely follow your entire journey, providing a lot of growth and learning.
Location
SP – São Paulo: (6 vacancies)
PA – Altamira (1 vacancy)
MG – Mariana (1 vacancy)
Who can participate: undergraduate students in their penultimate and last year of undergraduate studies, in a variety of courses in Exact and Humanities.
Term of duration: The program lasts from 1 to 2 years.
Benefits: stipend, transportation and meal vouchers.
Applications for the Intern 2022 program run from 12/01/2021 to 12/30/2021.
Check the complete regulation.
To sign up, simply access the Sólides platform and register.
Don't miss out!