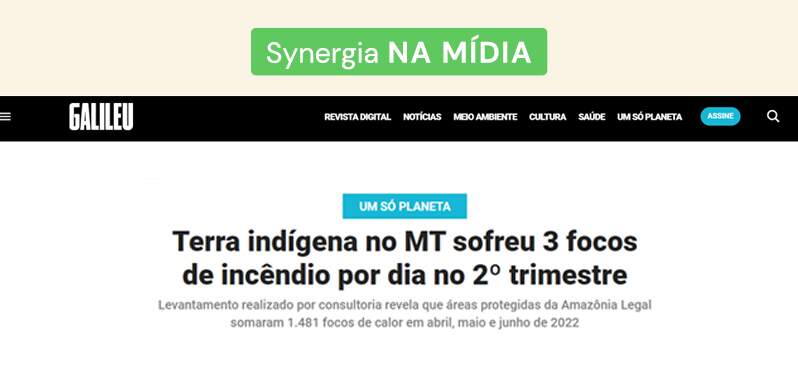 The survey on fire outbreaks in Indigenous Lands (TIs) and Conservation Units (UCs) , produced by Synergia, was the main source of the report " Indigenous land in MT suffered 3 fire outbreaks per day in the 2nd quarter ", published by Revista Galileo and disseminated in several other vehicles.
Focusing on the deforestation of the Indigenous Lands of Mato Grosso, the report highlighted the increase in hot spots in the Legal Amazon region and highlighted the data that indicate, on average, 3 fire spots per day in the area, recorded in the second quarter of 2022 .
The version of the Focos de Calor Report cited in the article analyzes the spatial distribution and temporal history of the outbreaks recorded during the second quarter of 2022 within protected areas in the Legal Amazon. The bulletin, released quarterly, is in its second edition.
According to the survey carried out by Synergia, the protected areas totaled 1,481 hot spots in the months of April, May and June 2022, mainly caused by agricultural activities, periods of drought and intense deforestation in the region.
Marcos de Lima, Synergia's geoprocessing coordinator , declared in the interview for Galileu magazine that the lack of inspection is also one of the main factors for the large number of hot spots registered in the conserved areas. He also highlighted the importance of protected areas in the Legal Amazon for preventing climate change and for maintaining the world's biodiversity.
Check out the full report by Revista Galileu and the main vehicles that shared the news:
Indigenous land in MT suffered 3 fires per day in the 2nd quarter
Municipal Secretariat for the Environment and Sustainable Urban Development of Cuiabá
Read too: