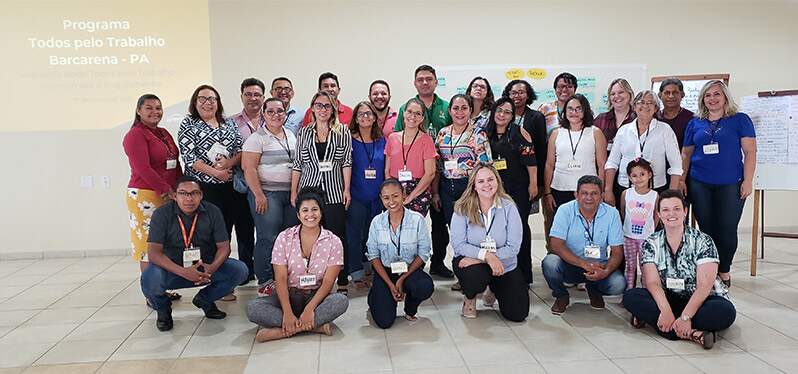 The Travessia Barcarena Program, supported by the Todos Pelo Trabalho Program, conducted by Synergia, has been outstanding in Pará. The project, designed for the client Norsk Hydro, has been generating training of local labor and income in the city of Barcarena – PA.
In November 2018, Synergia conducted a socio-environmental diagnosis of the municipality, identifying the areas that needed attention and those that could gain a new look at their productive potential.
The initiative showed that, although there were vacant job openings in the region, a large part of the population did not meet the required professional qualification requirements. Moreover, the largest portion of people who were left out of the labor market were women and young people.
Thus, aiming to stimulate sustainable socioeconomic and territorial development, Synergia put into practice an Action Plan designed to generate employment and income in the municipality, reducing social inequalities, mainly through projects that promote the inclusion of these groups.
The Action Plan had as goals:
Access to work
Training and professional qualification
Networking of the whole society
Work and income alternatives
And the plan is already giving results. One of the highlights, has been the front of the project that works with the training of local seamstresses.
With the worsening of the economic situation, recession, and increase in unemployment caused by the Covid-19 pandemic, the work emerged as an alternative to not let the development project planned for the municipality stop and, also, to collaborate in prevention.
More than 120 women living in communities in Barcarena received professional training through entrepreneurship classes and sewing workshops. The project focused its efforts on the production of protective masks against the coronavirus. All the material used in the making of the units, such as fabrics, trims, and packaging, was made available by the Hydro Sustainability Fund and its partners
The estimate is that production will reach 150,000 masks by June 2021.
The initiative, in addition to generating income for the professionals, will also ensure the protection of community associations in Barcarena, which will receive the mask donations and pass them on to the region's residents.
Watch the video and find out more about the Travessia Barcarena Program.
You also saw here:
Travessia Barcarena promotes income generation and training of seamstresses
Travessia Barcarena program promotes income generation and training of sewers
Supported by Hydro, The Travessia Program trains seamstresses in Pará
The Travessia Barcarena Program promotes income generation and training of seamstresses