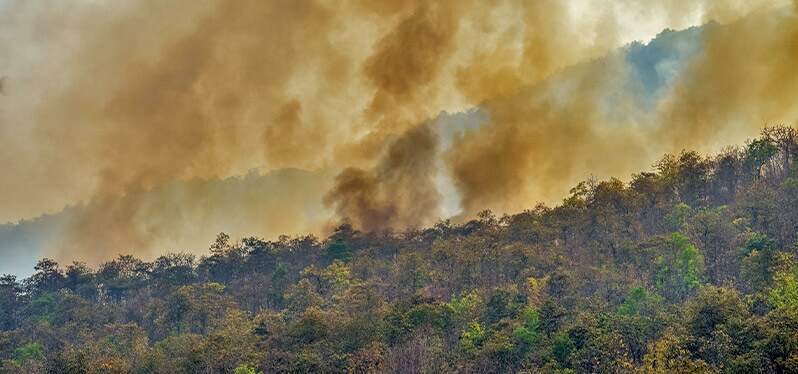 The Amazon forest is already emitting more carbon dioxide, CO2, than it absorbs. This is what the study "Amazonia as a carbon source linked to deforestation and climate change" indicates.
The research was led by Luciana Gatti, scientist from the National Institute for Space Research (Inpe), and published in the scientific journal Nature. The ecological imbalance pointed out by the study demonstrates a gradual change that has occurred in the ecosystem, caused by continuous aggression to the territory of the Amazon rainforest.
In 2014, Nasa – the American Space Agency – released a study in which it pointed out that the Amazon helps in the absorption of carbon dioxide in the atmosphere, contributing to the reduction of global warming.
The newly published research points to factors such as deforestation, droughts, large wildfires, and climate change as the factors responsible for the transformation of the Amazon. This is the first time that research indicates a decrease in the forest's absorption potential.
One of the justifications for this would be the fact that living trees would be responsible for absorbing CO2, while dead trees would emit the gas. As the forest has undergone numerous periods of degradation caused by the factors mentioned, the inversion of the scenario would be a natural process.
The study also indicates that the decrease in the amount of rainfall in the deforested and burned regions caused the temperature to increase by about 2 degrees in part of the forest. This caused the trees to emit more CO2 to compensate for the imbalance.
With the damage already done, and scientifically proven, all that remains now is the investment in public policies aimed at protecting these territories, preservation actions, and especially the restoration of this important ecosystem.
We have selected the main news about the survey and its results. Check it out!
Decline in carbon capture in the Amazon is discussed by UN agency in study
Amazon already emits more carbon dioxide than it absorbs, study indicates
With deforestation and fires, the Amazon emits more carbon dioxide than it absorbs
Burning and devastation: Amazon forest already produces more CO2 than it absorbs
How the most pessimistic forecasts for the Amazon have already been confirmed
Amazon forest already emits more carbon dioxide than it absorbs, study shows