The Amazon Summit , held between the 8th and 9th of August, in Belém (PA), brought together world authorities from the member countries of the Amazon Cooperation Treaty Organization (ACTO) , as well as leaders from Indonesia, Saint Vincent and the Grenadines, of the Republic of Congo and the Democratic Republic of Congo. The purpose of the meeting was to discuss actions for the sustainable development of the Amazon and to be a preview of COP30 , which will take place in 2025, also in Belém. 
On the first day of the event, President Luís Inácio Lula da Silva reinforced the importance of expanding cooperation between the countries that are part of the Amazon territory and highlighted the main topics that would be discussed at the Summit: 
Promotion of sustainable development, providing for environmental protection and the generation of decent jobs; 
Measures to strengthen ACTO; 
Ensure that countries with tropical forests are placed on the global agenda. 
In addition, the president of Colombia, Gustavo Petro, called for an end to oil exploration in the Amazon , a topic that gained prominence after Ibama denied a request, in the first half of this year, for the drilling of wells and oil extraction in Foz do Amazon .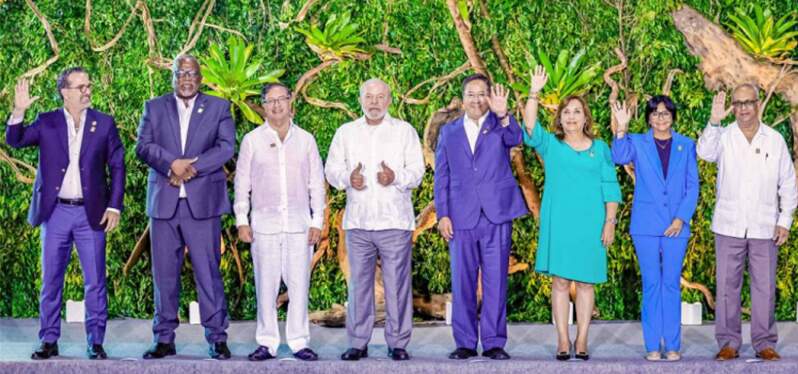 To establish the Amazon Summit debates, two important documents were signed. The Declaration of Belém , which highlights issues of consensus among participating countries, in addition to 113 objectives and principles . 
And to end the meeting, the document " United for Our Forests – Joint Communiqué of the Developing Forest Countries in Belém" was signed , which reinforces the commitments with the preservation of forests and biodiversity and with the reduction of deforestation factors , in order to to prevent the transformation of tropical forests into savannas. Furthermore, it ensures agreement on a just ecological transition that includes local communities. 
The statement also expresses concern about non-compliance with financing agreements made with rich countries, and points to the importance of valuing products made in forests , which help in the economic growth of developing countries. 
To learn more about the Amazon Summit, check out the selected news: 
Cooperation in the Amazon is urgent, says Lula at the Belém Summit 
Amazon countries sign the Declaration of Belém 
"The planet needs to stop using oil," says Colombian president 
Amazon Summit: Forest countries charge rich nations $200 billion to protect biodiversity 
Amazon Summit releases joint communiqué 
Amazon Summit: understand what was left out and what was included in the agreement signed by the 8 countries