Climate finance was one of the topics discussed at the 3rd Summit Meeting of the Community of Latin American and Caribbean States (Celac) and the European Union (EU), which took place in Brussels, Belgium, between the 17th and 18th of July. 
The meeting was attended by 60 leaders from participating countries, who discussed topics such as trade and sustainable development , social inclusion, migration, climate change and energy transition, among others. 
As in several world meetings , the governments of vulnerable and developing countries demanded, during the summit, that rich and already developed countries make resources available to finance and support projects to mitigate the impacts of climate change.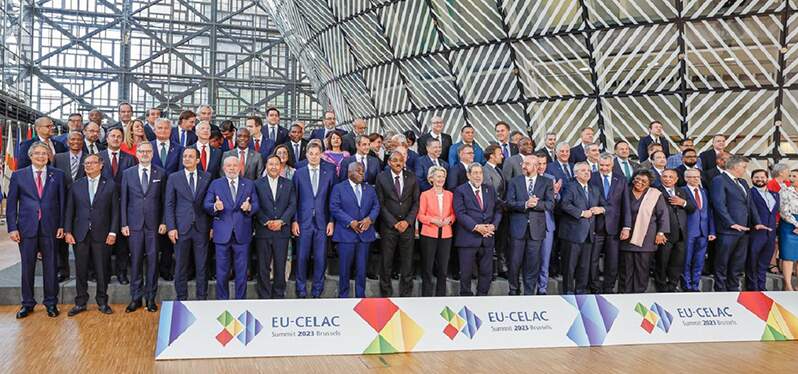 In this way, a commitment was made among the countries of the European Union to allocate, annually, US$ 100 billion to support climate finance , as indicated in the final declaration. In addition, the proposal is to double funding for adaptation by 2025. 
However, it is not the first time that this type of high investment agreement has been carried out. In 2009, developed countries committed to transferring US$ 100 billion a year so that the most vulnerable countries could combat climate change. On that occasion, not all value transfers were carried out: only one transfer of US$ 83.3 billion was made in 2020 . 
In the final declaration of this year's summit, the importance of countries joining forces to face crises and challenges, such as food insecurity , poverty and inequalities, in addition to cooperation for the implementation of the 2030 Agenda , was also addressed . 
To ensure the fulfillment of the commitments signed at the summit, the leaders agreed to meet every two years, the next meeting being in 2025 and, this time, in a country of the Community of Latin American and Caribbean States. 
To learn more about the 3rd Summit Meeting of the Community of Latin American and Caribbean States (Celac) and the European Union (EU), check out the selected news: 
European countries pledge to reach US$ 100 billion to finance climate 
For Lula, CELAC-European Union summit was "extremely successful" 
Celac-UE Summit: Differences limit rapprochement between Latin America and Europe, analysts say 
Countries reach final text at Celac-EU summit without terms hostile to Russia; Nicaragua does not endorse document