The World Day of Creativity and Innovation was made official by the United Nations (UN) in 2017 . The date, at first glance, may seem a little different from the others established by the Organization, which tends to focus on celebrations more focused on the environment and/or specific causes.
However, when we understand the initial objective proposed by the World Day of Creativity and Innovation, it becomes easier to understand why the UN has embraced the cause and turned the date into one of its official celebrations .
World Creativity Day and the start of the project
In 2014, Brazilian Lucas Foster, entrepreneur and specialist in the creative economy, created World Creativity Day , a global initiative currently considered the largest collaborative festival of creativity and innovation in the world. The objective was simple: to demonstrate that these characteristics play a key role when it comes to human development .
The event has grown into what the organization describes as a global community , in which "educators, creative entrepreneurs, social and business leaders, creators, researchers and other agents of change are committed to promoting and connecting initiatives that promote creativity and innovation for sustainable social, technological and economic development."
This year, the fifth year after the UN made the date official, the movement counts on the engagement of 120 cities around the world and launches another strand, the first edition of the World Creativity Festival . Salvador, Bahia, was chosen as the " World Capital of Creativity 2022-2023 " and will host the event.
From this context, it is easier to understand why the UN considers the date so important, since it represents the union of different sectors in favor of the use of creativity and innovation so that economic, social and sustainable development is not only possible , but which is also faster based on innovative solutions .
But what do creativity and innovation really mean ? And what is the role of companies in applying this to a better society?
Creativity and Innovation in the business context
By applying creativity and innovation in their proposals , projects and actions on a daily basis , companies play a fundamental role, especially when we consider that they can, and should, be responsible for the communities in which they operate and for collaboration in the development of society .
It is worth mentioning that this is also directly related to the practices that a company adopts to become more responsible in environmental , social and governance terms .
That is, uniting creativity and innovation to everyday processes is important both for the development of the companies themselves and for the development of the society in which they operate. In the end, the results end up expanding globally , as they achieve improvements for everyone .
To understand how these characteristics can directly influence a company and its way of acting , we spoke with Lilian Veltman, consultant in Strategic Management and Innovation at Synergia. Check out the interview!
Editor: Lilian, for you what is creativity and innovation in the context of Synergia's work?       
First, we need to understand the difference between innovation and creativity, and why so many companies have been investing in innovation for a few years now.
Creativity is in thinking, it's something everyone has, a reasoning ability, to locate yourself. We also have creative intelligence, but innovation is the action of that.
Understanding this differential, we can see that, from a few years ago, thinking historically about 20 or 30 years, companies were more recognized the bigger they were, what mattered was their productive capacity. So, within the space they occupied in the market, to innovate they maintained very expensive study centers and research centers.
Today, we can say that the company with the greatest agility and the greatest capacity to experiment wins. This is currently the great differential of growing companies.
Synergia, for example, is in an interesting situation, because it provides services to super traditional companies, those companies that carry out long-term strategic planning – where innovation is very centered on technology and on bureaucratic procedures and processes. And to provide services to these companies, Synergia has innovation as a fundamental value.
It is as if she were navigating between the startup model, which is a model of multidisciplinary teams in which people work together to solve a common problem and quickly adapt their plans, but also guided and guided by processes and organizational flows well consolidated by ISO procedures – in short, also by the more traditional model.
To guarantee innovation, Synergia maintains these models that meet the answers that customers need in a more traditional way, but encourages leadership autonomy, has quick decision-making processes, encourages the culture of error in the company and does not punish those who try out new ideas. On the contrary, it is a company that fosters new ideas.
I believe that this is the big question, a company that is focused on innovation and that provides services thinking about innovating, that thinks about innovative governance. Our idea has always been to have a structure that integrates innovation and strategic management, which already demonstrates the company's intention to manage and innovate from end to end, both in governance and in services.
Writing: How is this adaptation made between the model that Synergia uses, which has this startup and innovation footprint, and the work with more traditional clients?
It is a company investment in technology to create solutions to serve these customers, guaranteeing them the records they need, the assertiveness of the solution.
In testing and experience, one super important thing is the error culture, which means you have to fail to get it right. It happens in processes of internal experiences of the company, but not with the customer. For the client, we bring very precise solutions, already tried and with results that we can record and prove. So, this technology is a process, a yeast that happens internally.
We work with technology both to develop these solutions and with methodologies to improve, be it social education, community relations, incorporating new socio-environmental concepts into work practices. Synergia is always bringing and improving these concepts of diversity, human rights and sustainability. Today, we already have ESG guidelines both internally and in the development of ESG products for customers.
Writing: Currently, on which fronts do you see more innovation at Synergia?
The search for innovation is general, including in management itself. Strategic management and innovation are integrated within Synergia as a characteristic of the company that it is always prepared to carry out profound, structuring changes. We have a very strong dynamism in governance because we always carry out profound changes, including the support of leading consultants in terms of innovation and management. This makes it transversal to all areas.
But I can mention some, for example, the product of registrations and surveys, data intelligence. We have an intelligence system called SIS Pesquisa (Socioenvironmental Intelligence System) , which allows cross-referencing data in different formats with the possibility of online monitoring of surveys using electronic devices. But what is most interesting about it is the very way of integration and interaction of these complex data. It is a very important system for any type of monitoring, registration, need for knowledge – whether territorial, census, or cadastral of a community. We are one of the most advanced companies in this regard, due to the speed with which we have to carry out these surveys.
Another front we have, and it is quite innovative, is our Social and Environmental Education method. We faced the pandemic with the development of absolutely innovative techniques, to be able to work on Environmental Education for both workers and communities. We adapt very quickly due to having this flexibility and ability to experiment. This gave a lot of security in the process.
We were already working with methods such as non-violent communication, social pedagogy and social cartography , among others. We have a series of social tools and rapid participatory diagnosis, innovative tools that leave that history of social participation via meeting, voting and assembly and enter a situation of qualification of communities and people to be able to act in a participatory way.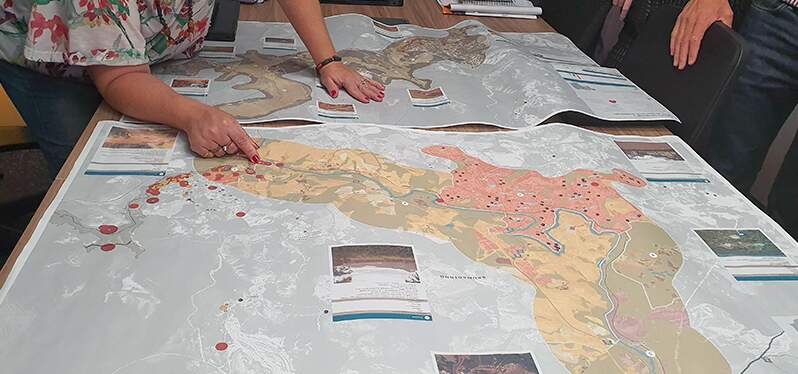 Another front we have is precisely that of traceability. That is, monitoring whatever it is. Synergia's ability to integrate secondary sources with analytical and technical potential means that we are able to extract analyses, studies and diagnoses very quickly from secondary data.
An example of this is what has been done with fire outbreaks . We managed to work with these reports of fire outbreaks from secondary sources, but already creating an entire alert for the risks of the proximity of these outbreaks to certain communities or certain territories.
Synergia's innovation resides a lot in the technical part, in being able to cross data with knowledge, working exactly with the combination of tools developed by the Information Technology team and their applications, with a technical staff that manages to know where the data they will need to know certain analyses. This is a very important innovation for customers, this ability to integrate technology with knowledge.
Writing: How can these innovation practices at Synergia collaborate with the communities served?
The innovation concepts we use with communities in mind are always geared towards greater participation, greater transparency and faster results. For example, when we use a tool like the SIS to carry out resettlement or other services, we are very agile in document analysis, polygon analysis, characterization and formation of interest groups, which will allow us to offer a more proper.
We managed to work in a way in which all the development and the goals of the work can be rescued and exposed safely to the client. As in work in a disaster situation, for example, it is very important because the customer will be questioned. We need to offer the elements for him to demonstrate the path he is taking to build his solution. And we managed to do that because we have this whole issue of integrated databases, the forms are very complex and analyzed.
For the client, he has the security and credibility that the tools that Synergia uses generate results. For the community, there is this issue of speed of solution, transparency, participation and sharing. We have a relationship with innovation that doesn't just have to do with innovation, but has to do with Synergia's posture in relation to working with communities, which is to always have an experience of exchange and to place ourselves on an equal footing with who we are working with.
Innovation always helps development, because it turns creativity into action. The world is abundant with solutions. In fact, we are capable of having solutions for almost anything. By innovating and having this attention to innovation, as a company, we are giving an abundance of tools, development capacity and potential for creating solutions.