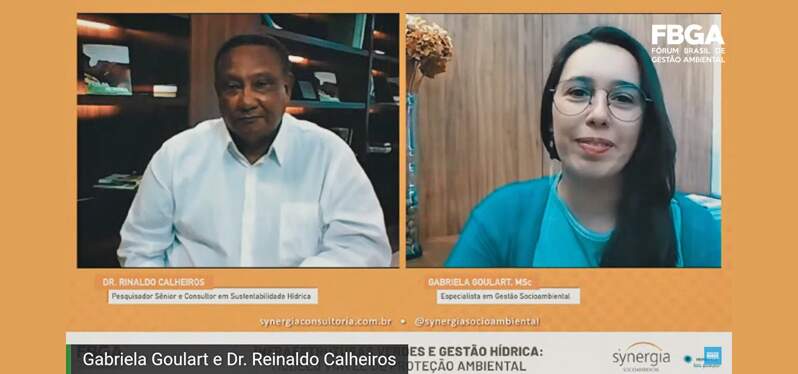 Synergia participated in the Brazilian Forum on Environmental Management (FBGA), held and broadcasted by Conexão FBGA – one of the most important platforms for entertainment and shared knowledge about sustainability.
The topic "Green infrastructure and water management: a viable model for environmental protection" was debated by expert Dr. Rinaldo de Oliveira Calheiros, senior researcher and consultant in Water Sustainability, and by Gabriela Goulart Oliveira, MSc, specialist in Socio-environmental Management.
Experts from Synergia explained some of the approaches proposed by the company to mitigate the effects and causes of the water crisis through nature-based solutions. Check out the video of the participation:
Watch Synergia's participation in the FBGA!
During the presentation at FBGA, topics such as:
Losses associated with the water crisis, both for the private and public sectors;
The main differences between gray infrastructure and green infrastructure in acting against the water crisis;
The benefits of green infrastructure for both public management and society.
The presentation also brought the possible water sustainability solutions and their developments: "Water self-sufficiency plan", "Quantification of water production potential", "Security of springs" and "Hydrological monitoring plan".
It is worth remembering that water sustainability has been intensely addressed at this moment, when Brazil faces yet another scenario of rainfall shortage and low water levels in its main reservoirs.
With the crisis already in place, many governments and companies are thinking about emergency measures to contain its consequences. However, it is important to remember that emergency measures, most of the time, are palliative: they help to momentarily alleviate the crisis, but do not act on the root of the problem and do not prevent it from happening again.
Investment in medium and long-term solutions – which serve as prevention and need to be thought out, planned, and put into action in advance – is extremely important to avoid future water crisis scenarios.
The water production program through the physical-hydrological recovery of watersheds, proposed by Synergia, is an example of a sustainable solution that governments and companies can rely on to achieve water self-sufficiency.
Want to know more about this solution? Contact Synergia's specialists and ask all your questions.
Check out the news about the 1st day of the III FBGA 2021 event, published in the Revista Fórum Brasil de Gestão Ambiental
*The presentation was originally broadcast on the FBGA Connection platform.