The Synergia's Young Apprentice Program is entering a new phase! The program for qualifying teenagers and young people for the job market, which has been carried out by the company since 2014, has a new look.
Much more dynamic and focused on the learning and development process of the teenagers and young participants, the program now has a differential: an individual development plan, designed for the career of each participant, with specific learning for their respective area – be it technical, specialized or management-oriented.
To extend the benefits of the program, Synergia invested in hiring a consulting firm specialized in developing young talents and in building a training grid that combines the learning of technical competencies and behavioral competencies – personal and interpersonal skills, known as soft skills.
Synergia's Young Apprentice Program is aimed at teenagers and young people between the ages of 16 and 23 (incomplete), and 25 for people with disabilities (PCD), who are attending or have already concluded high school.
Supported by the National Apprenticeship Law 10097/2000, the contract as a young apprentice has a duration of 1 year and a commitment to ensure that the participants have rights such as adequate remuneration, labor and social security rights, and a workload that does not hinder their studies.
In addition to supporting their entry into the job market, the program's purpose is to insert these teenagers and young people into Synergia's culture, developing these talents to incorporate the company's values, which involve ethical, humanitarian, and social and environmental protection concepts, preparing them to pursue careers in the organization, within the succession plan and the existing internal opportunities.
Follow-up and career development plan
Among the differentials of Synergia's Young Apprentice Program is supervision by professionals with full mastery of the processes in the areas where the apprentice will work.
Managers are committed to training the apprentices, supporting their development, evaluating their performance, and encouraging their participation in the area's activities. All of this guarantees both learning and the exchange of knowledge – essential for building a successful professional career.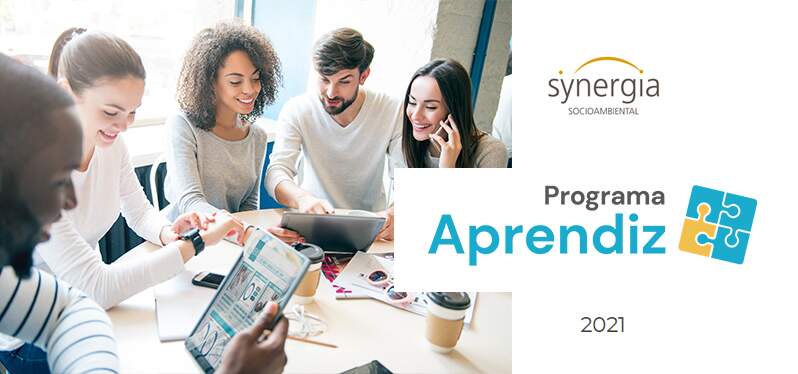 Within the development plan, several activities were designed to prepare the participants for the job market and collaborate in the integration between study and practice, such as:
Institutional integration: where the young people will be introduced to Synergia's purposes, values and history, as well as its areas of activity;
FITCULTURAL – Synergia Values: immersion in the company's culture and code of conduct;
Specific knowledge, inherent to the specific activities/projects of which they will take part (administrative activities and field activities);
Learning Office 365 features: using Excel, Power Point, Word, SharePoint, Outlook, OneDrive, and others;
Skills related to the work environment: such as communication, interpersonal relationships, teamwork, and time management;
Learning about methodologies for project management;
Development of behavioral skills: non-violent communication (NVC), emotional intelligence, assertive communication.
Diversity, equity and inclusion are also part of the Young Apprentice Program
It is worth noting that, as in all the company's other selection processes, the Synergia's Young Apprentice Program considers and takes issues such as equity, representativeness and inclusion very seriously, ensuring a selection without distinction of race, social class, regionality, nationality, religion, gender, people with physical or mental disabilities, sexual orientation, appearance, ideology, language, and any other form of discrimination and prejudice.
The Young Apprentice Program is a public policy initiative of the federal government, created in the year 2000, with the purpose, besides insertion in the job market, of helping to avoid unemployment, school dropout, and informality that affects a large part of the young population in the country.
Many of the young people who participate have the money obtained in the program as the main income for their families, such is the importance of the activity in their lives. For this reason, ensuring that the process follows values such as diversity, equity, and inclusion is one of Synergia's greatest concerns in contributing to social development.
Renata Guirelli, coordinator of the Organizational Human Development (DHO) sector at Synergia, believes that the program is an opportunity for teenagers and young people to learn more about the job market and to be able to choose the area they really want to work in:
"I have always had great experiences working with young apprentices. I learn a lot from them, and what inspires me is the possibility to support their development, to encourage them in their constant search for learning. It's very rewarding to follow the process."
For Emely Alves, a DHO assistant and former young apprentice who was hired at Synergia, the program was important for the development of both professional and personal skills, in addition to helping her get to know different areas of the company, which led her to decide for her current area of work:
"I evolved my technical and soft skills, understood procedures, and met people who supported me throughout the journey. I was happy and grateful for the vote of confidence in me and my work. I see that the growth, learning, and development remain constant, every day I learn new things and share the knowledge I have gained so far.
Giving the opportunity to develop talent is crucial, bringing new ideas and different thoughts adds and brings value to the company. I believe that here at Synergia there is a totally conducive environment for constant learning and development."
---
The selection process for participating in this year's Synergia's Young Apprentice Program is now closed. But if you meet the program's requirements and are interested in participating in 2023, just look for one of the partner institutions – NUBE, CIEE, and Rede Cidadã – and apply. You can also register your résumé through the Sólides platform.
Get to know also the Synergia Internship Program, which supports young interns who have already chosen their area of activity and are attending university.