Gender equality and the search for less and less unequal conditions between men and women has been a constant theme when we talk about building a fairer society . The subject becomes central and takes the lead in discussions when we arrive at Women's Month .
Originating in workers' demonstrations in the early 20th century, International Women's Day marks the month of March as a time of reflection on achievements and claims for rights.
On March 8 of this year, the United Nations (UN) made an appeal for gender equality and for the world not to leave the pandemic in retreat in this area.
The UN estimates that 47 million women were driven into extreme poverty in 2021 as a result of Covid-19. In Brazil, one in four women over the age of 16 claimed to have suffered some type of violence over the course of 12 months, according to a survey carried out last year by the Brazilian Public Security Forum with the Datafolha Institute.
As the data show, the road to gender equity is still long. But it is also worth remembering that many women's conquests have been obtained through mobilizations until today: access to schools and universities , the right to vote and the creation of the Maria da Penha Law are some examples.
Each woman leaves her contribution to the world and reaps what was built by many others. With that in mind, to celebrate the date this year, Synergia decided to talk about legacies : " what is transmitted to posterity ".
Synergia seeks to leave a positive legacy in the territories where it operates and women are an essential part of this mission, in a team that is 57% female , and in which they occupy 58% of leadership positions . In addition, many are impacted by the projects implemented by the company.
We conducted a series of interviews with women who are part of this story. We highlight here some points raised from their testimonies , in addition to highlighting essential aspects for building a future with more equity .
female mobility
One of the aspects of daily routine in which women suffer consequences from the lack of gender equality is in the way they move around cities .
In a survey carried out in 2021 by the Patrícia Galvão Institute and the Locomotiva Institute, with around 2,000 men and women, 81% of the interviewees said they had already experienced at least one situation of violence on their journeys . The most common were being the target of insistent stares and inappropriate flirting (69%) and suffering harassment or sexual harassment (36%) .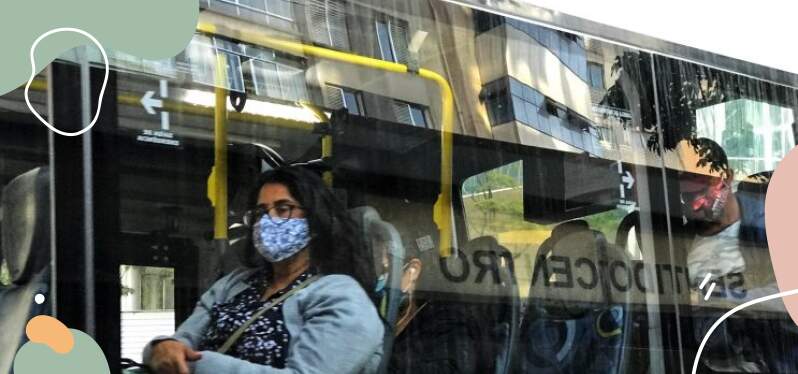 Based on personal discomfort due to feeling that her right to come and go was restricted, Bruna dos Santos Galicho, who works as Synergia's Project coordinator, began researching how mobility affects women's lives . She highlights the specificities that exist in the experiences of black women:
"I realized how many times a woman can stop studying at night , or accessing a certain job, because she will have to walk through a dark stretch , from the bus stop to get home. And how women experience it very differently. Sometimes we think that they all face the same treatment when walking down the street, but we know that women are different too , their bodies are different. And they are harassed in different ways," she claims.
In her work at Synergia, conducting research in the territories, Bruna always prioritizes treating people with respect and equality . In addition, she highlights friendship with the people she lives with as her legacy.
women in agriculture
Women play an essential role in agriculture, making up 40% of the agricultural workforce in developing countries, according to the UN. However, they deal with many challenges in the sector, such as access to land and decision-making power caused by the lack of gender equality.
Elisangela Trzeciak, cocoa producer and project coordinator at Synergia who works on the Xingu Regional Sustainable Development Plan (PDRS), says that the female role in agriculture is often overlooked .
"Women in cocoa production play a very important role , but they are invisible . It's the men who sell the cocoa, but it's the women who are there normally doing the management , they write down who works, how many kilos they gave, they go with their husbands to the fields. Other times they are property managers , but it is a very small number. Now they are starting to take on more of a starring role , but for the most part they are invisible on the property," she explains.
Elisangela actively participates in policies designed for the Amazon region , in order to contribute to sustainable development .
The participation of women in the management of agricultural establishments in Brazil has grown in recent years, according to the last Agro Census carried out by the Brazilian Institute of Geography and Statistics (IBGE). But they are still a minority, rising from 13% of total producers in 2006 to 19% in 2017 . For UN Women, gender equality, social justice and sustainability in the countryside need to be at the heart of the post-Covid-19 recovery.
Housing and sustainability
Strategy Consultant at Synergia Lucia Cavendish defends the urgency of the search for social equality . An architect by training and concerned about this issue, she has worked for about 30 years with slum upgrading throughout Brazil and elsewhere in Latin America.
"We started to urbanize favelas, but at the same time it didn't change the inequality that prevents a low-income person from having access to an urban location . Then, the slums swelled and the resources used in urbanization ended up deteriorating. It's very sad, and that's why I stopped working with the favela, while there is no housing policy ", he explains.
Lucia highlights her stance on ensuring that her image reflects exactly who she really is, and on not cultivating " having ", but " being ". She also warns of the need to pay attention to environmental issues , emphasizing that "the human condition of survival on the planet is threatened".
This concern is reflected in the theme chosen by the UN for March 8 this year: " Gender equality today for a sustainable tomorrow ". The organization states that women are being recognized as more vulnerable to the impacts of the climate crisis and highlights the contribution of girls and women who are leading the task of adapting, mitigating and responding to climate change , to build a more sustainable future.
Job market
The challenges of being a woman in the job market were a point addressed by many interviewees during Synergia's Women's Month. Even today, large gender disparities are observed in the Brazilian market : a study by the Getulio Vargas Foundation (FGV) pointed out that women earned about 20% less than men in 2021. Inequalities are present in access, remuneration and professional growth .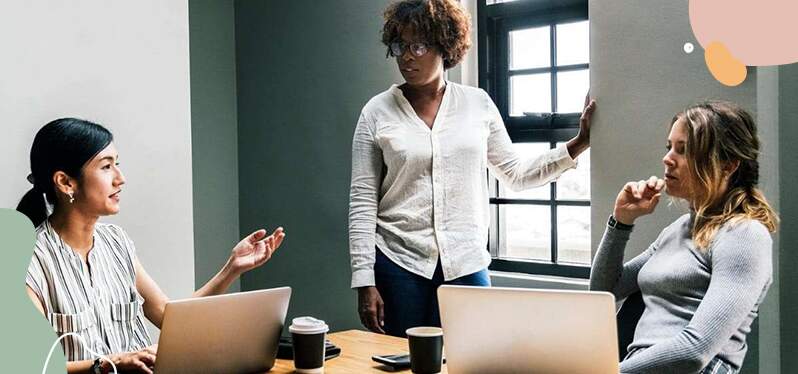 In addition, women are harmed by the division of domestic and care tasks, which still fall mainly on them. The scenario discourages women's participation in paid jobs and, in many cases, causes them to experience so-called double or triple shifts .
Among other aspects necessary to reverse the scenario, the UN points out the need to recognize the importance of care tasks for the social life and economy of countries and highlights that gender equality and non-discrimination in the labor market are fundamental human rights .
"Strong women"
The existing inequalities in society mean that women often have to make great efforts to achieve better conditions for themselves and their families.
During Synergia Women's Month, many interviewees also reported on struggling women, who overcome difficulties and inspire them as an example, encourage them and strengthen each other.
"I grew up seeing very strong women . My maternal grandmother was widowed very young, had many children to raise, and lived on the minimum wage , in the countryside. She never went hungry, she managed to survive. I am a strong person and my strength is like my maternal grandmother. My family says that I am determined . I have a hearing impairment , but that's not why I can't do anything. I was the first in the family to graduate from college , and then my cousins ​​came", says Flaviana dos Reis da Silva, Personnel Administration Assistant at Synergia, who highlights her legacy.
participation in politics
Female participation in politics is an important aspect for promoting actions that advance towards the promotion of gender equality.
In February of this year, women's suffrage in Brazil completed 90 years . Many pioneers are remembered for paving the way for women in Brazilian politics. Meet some of them:
– Celina Guimarães Viana: she was the first female voter in Brazil, enlisting at the age of 29, through a 1927 state law that allowed women to vote in Rio Grande do Norte. The votes were later invalidated, but the initiative was marked in history.
– Bertha Lutz: the biologist born in São Paulo was one of the founders of the Brazilian Federation for Women's Progress, in which she fought for the vote and other women's rights.
– Luíza Alzira Soriano Teixeira: the potiguar teacher took office as mayor of Lajes (RN) in 1929, becoming the first woman to win an election in Brazil and the first elected mayor in Latin America.
– Antonieta de Barros: educator and journalist, she was elected in 1934, becoming the first woman to join the Legislative Assembly of Santa Catarina and the first black deputy in the country.
However, decades after these achievements, Brazil occupies the 145th place in the ranking of the Interparliamentary Union, which analyzes the percentage of women in national parliaments .
There is still a long way to go when it comes to female participation in the exercise of public power and an end to the violence they suffer when they manage to occupy these positions.
Impacting women's lives
Achieving gender equality and empowering women and girls is one of the Sustainable Development Goals proposed by the UN. In line with this purpose, making a positive contribution to women's lives is a source of pride for Synergia.
Check out the testimonials of some women impacted by the projects carried out by the company:
– Janine Pereira Gonçalves , 43 years old, manager of Residencial Lavras , where 1460 families live , in Guarulhos (SP):
"When I joined as a manager, I took over the condominium with a default of almost half a million reais . Synergia was in here at the time and helped me a lot. She managed to bring together, together with the partners, a mass of public bodies and held a meeting so that we could expose our difficulties . At the time, we could go up to ten days without water , and now we don't have that problem anymore. (…) Today I feel like an empowered woman . I go after my goals, through the councils, because of this whole team that was here."
– Jumara Santos dos Anjos , 33 years old, guardianship counselor and works with baking, participates in knowledge exchanges in the quilombola community of Retiro de Mangaraí , in Santa Leopoldina (ES):
"I come from a family where women are seen more as fighters, because what's left is manual work , where we are always present. It came from my grandmother, to my mother, who today supports her house, my sisters. And I always worked. So in our family, women are always running after and I see that we should be more valued. It is in these exchanges of knowledge that we have noticed that we have to empower ourselves more. Because we have done the same as men."
– Aylla Sousa Pontes , 18 years old, and Ryang Gomes Oliveira , 19 years old, participated in the health promotion and sexual education program in Canaã dos Carajás (PA), in which they also presented a play about sexual abuse :
"This play had a big impact because wherever we went to perform, people couldn't help but get emotional . Once, a girl came to talk to us crying a lot, saying that she had already been through it, and that she couldn't talk about it with anyone. And through the play she was able to reach us, talk." (Aylla)
"It was very remarkable, because it deals with issues that were very important and still are today. (…) A young person having this information helps a lot in preventing an unwanted teenage pregnancy , avoids getting STDs, STIs. Because most teenagers don't have information at home, sometimes it's taboo. And it's not taboo , it's something that needs to be talked about." (Ryang)
– Marlucia Alves da Costa , 33 years old, seamstress, participated in the project to make protective masks against Covid-19 , in the municipality of Barcarena (PA):
"By the time the pandemic hit and resources were tight , I was living in a house that wasn't mine. When I delivered the first mask kit and the first amount fell into my account, it was a joy , because with it I was able to pay for the roof of my house , which was under construction. (…) I started to see myself in this angle that I was able to help my husband build our house. See the fruit of my talent . I can say that I am a determined woman and that from now on I can do whatever comes into my hands."
---
Check out the playlist with the individual testimonials and the complete video with the main excerpts from the testimonials of the women who participated in the Synergia 2022 Women's Month campaign – Legacies:
And be sure to watch the Live "Incentive to equity and female entrepreneurship", with Maria Albuquerque , founder and CEO of Synergia Consultoria , and Andrea Alvares , Vice President of Brand, Innovation, Internationalization and Sustainability at Natura .